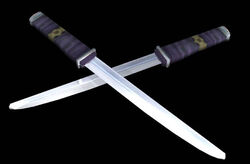 A kodachi (小太刀 or こだち?), literally translating into "small or short tachi (sword)", is one of the traditionally made Japanese swords (nihontō) used by the samurai class of feudal Japan. Kodachi are from the early Kamakura period (1185–1333) and are in the shape of a tachi. Kodachi are mounted in tachi style but with a length of less than 60cm.
The exact use of the kodachi is unknown; it may have been a companion sword to normal sized tachi or it may have been a sword for an adolescent. Kodachi appear to have been produced only in a certain time period by specific schools of sword makers
References
Edit
The Japanese sword, Kanzan Satō, Kodansha International, May 30, 1983
Ad blocker interference detected!
Wikia is a free-to-use site that makes money from advertising. We have a modified experience for viewers using ad blockers

Wikia is not accessible if you've made further modifications. Remove the custom ad blocker rule(s) and the page will load as expected.