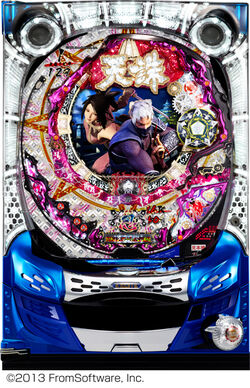 CR Tenchu (CR 天誅, CR Tenchu?) is a 2013 pachislot arcade game, based on the Tenchu series. It was developed and manufactured by NewGin Co. Ltd. in association with From Software.
Unlike NewGin's other Tenchu pachislots this game features new character designs. In some cases, bizarre amalgamations between K2 era and Tenchu 4 designs.
Character Appearances
Edit
Screenshots
Edit
Promotional material
Edit
External links
Edit
Ad blocker interference detected!
Wikia is a free-to-use site that makes money from advertising. We have a modified experience for viewers using ad blockers

Wikia is not accessible if you've made further modifications. Remove the custom ad blocker rule(s) and the page will load as expected.